Episodes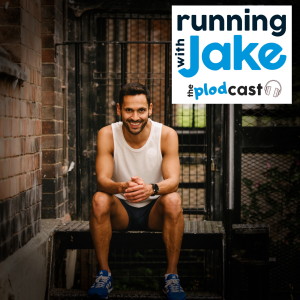 Wednesday Jul 28, 2021
Wednesday Jul 28, 2021
Welcome to your weekly dose of running motivation.
Jake's recording internationally again today - He's now moved from Italy to Greece.  On today's recording, he's almost killed by a "scary leaping Gecko"!

Whilst Jake's away on an extended "break", he's still working and continuing to train for The Manchester Marathon, you'll hear some tips on training whilst away, and managing expectations is a massive part of it.

We're also joined by our BIG TIME CELEB MATE,  Mhairi Maclennan again.  She updates us on how successful the #zerotoleranceuka was (You can hear more about it on her last appearance on Episode 62).  The campaign set Mhairi on a new path in life, and along with Kate Seary, she founded Kyniska Advocacy - See more about their awesome work here.
AskJake:  Each week, we'll take one of your questions and Jake will answer it.   Today, we're talking "that old favourite"; running shoes, and picking the right ones.
See the full show notes & resources here: http://runningwithjake.com/plodcast
To listen to Frank on Sophisticated Property Investing (as promoted on this episode), follow this link: https://podcasts.apple.com/gb/podcast/sophisticated-property-investing-by-ethical-property/id1505084963